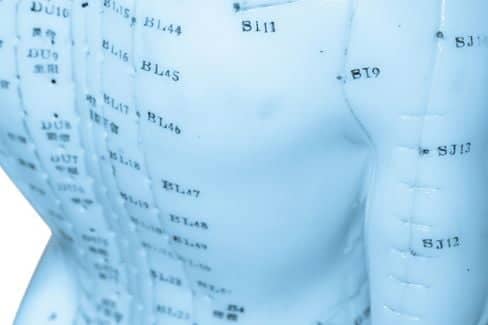 Acupuncture
Acupuncture is originally a Chinese technique that has been adapted for use in Western medicine. It uses very fine, single use, sterile needles to create a variety of effects on the body by following a map of pre-set needle insertion points.
There is usually very little discomfort with this treatment and most patients find they are relaxed and often fall asleep while having Acupuncture. Common conditions that respond well to Acupuncture are tennis elbow, whiplash, headache/migraine, chronic pain and lower back pain. Acupuncture can also be used to aid circulation, increase healing times and reduce pain.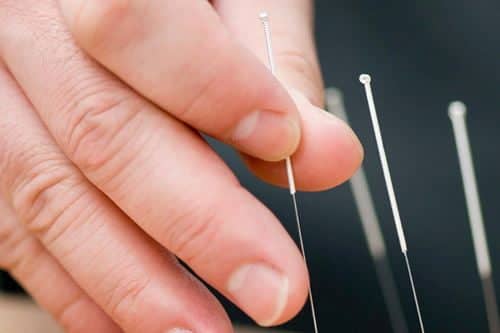 Dry needling is a Western technique, similar to Acupuncture, whereby very fine, single use, sterile needles are used to create a variety of effects on the body. The most common method used is the insertion of needles to release local areas of tension in a muscle (called trigger points) for symptomatic relief of a problem.
It can also be used for tendonitis or to stimulate healing in an area. Dry needling is also recommended for people prone to tightness in their muscles and as an adjunct to an athletes stretching program, particularly for intense training programs such as in the run up to a marathon/triathalon.
Electrotherapy
Electrotherapy is the use of electrical energy in the form of sound waves (Ultrasound), light radiation (Laser therapy) or electrical current (TENS or Interferential) for treatment of a range of conditions.
The main aims are usually to decrease pain or swelling, speed up healing or increase muscle strength. Electrotherapy is a gentle treatment approach most commonly used for acute or painful conditions where a gentle approach is necessary.
Manual Therapy
Manual therapy is a physical technique used by Physiotherapists whereby they use their hands to mobilise or manipulate muscles, joints and other soft tissues. It may include massage, trigger pointing or stretching tight muscles, cross-frictioning strained ligaments or muscles, or mobilising stiff joints to increase movement and reduce tenderness.
Manual therapy is a big part of our clinical skill set and all of our Physiotherapists are experienced at using their hands to assess, diagnose and treat the wide variety of muscle, joint and other soft tissue injuries.
Exercise Therapy
A specific exercise program can be prescribed for a person with the purpose of helping to restore normal movement or to reduce pain caused by disease or injury. It is also used to help an individual rehabilitate fully from an injury in order to avoid recurrence of the injury in the future.
Our Physiotherapists are equipped to provided each person with an individualised exercise routine that can be incorporated in to their normal daily routine. Depending on your circumstances, you may be advised to do exercises at home, at the gym or outside, or you may also be given the option to join one of our many modified Pilates classes.
Modified Pilates is a form of exercise that can be enjoyed in a 1 to 1 setting or as part of a class. It is modified from normal Pilates to be suitable for people with injuries or people who are new to exercise to help improve their strength, endurance and flexibility and also to promote body awareness and relaxation.
Taping
Kinesiology tape (KTape) is an elastic therapeutic tape used for treating injuries and other biomechanics problems. It is designed to facilitate the body's natural healing process while providing support and stability to muscles and joints without restricting the body's range of motion. The aim of the tape is to optimise muscle function, this includes increasing local circulation to aid tissue healing, improving flexibility and strength of the muscle as well as reducing pain. It can also be used to help correct imbalances between different muscles for example with runners knee.
Sports tape is a rigid tape applied directly to the skin in order to maintain a stable position of bones and muscles. It is used to help correct biomechanical problems, support weak joints and muscles such as after an ankle sprain or shoulder dislocation, and to provide biofeedback to improve performance. It also helps to reduce pain and aid recovery.
Manual Lymphatic Drainage
This is a gentle form of massage used in the management of lymphoedema whereby excess fluid in the body's tissues is directed towards the lymph nodes to rejoin the cardiovascular system. Treatment normally takes an hour and is performed by a Chartered Physiotherapist fully qualified in manual lymphatic drainage.
Orthotics
BodyRight Physiotherapists are experienced in providing biomechanical solutions to meet patient's needs. Each patient is given a full biomechanical assessment of foot function, including gait assessment in non-weightbearing, weightbearing and during motion i.e. running or walking, to identify any problems or issues in posture or walking mechanics. Depending on the results from this assessment various options are available to clients. Our orthotics cost from as little as €20 and range up to €270 for a completely customised devise, depending on the complexity of the issue. We also monitor the progression / regression of the issue, particularly with children, to ensure the orthotic device being used is the most appropriate device for the person and their activity levels. The Physiotherapists at our Drogheda or Phibsboro Clinics will be able to advice on what's most suitable for your condition and budget.
Custom Orthotics
Custom made orthotics are made to measure and each one is unique to the individual patient. Each device is developed, designed and handmade to each patient's requirements.
Following a detailed gait & biomechanical assessment the Physiotherapist will take a cast of your feet.
From this information an orthotic prescription is formulated and forwarded, with your casts, to a professional orthotic company where your individual orthotics are produced from the mold of your feet.
Features:
The orthotics are constructed using high quality durable materials.
Have inbuilt shock absorption as required.
They can be developed for casual wear or sports wear functionality.
Have a choice of colours and coverings available.
Suitable for Low to Very-High support.
Heat Moulded In-Soles
These are stock orthotics that can be adapted to fit the patient.
Following an assessment the Physiotherapist may recommend this as an alternative to a full casted orthotic.
Features:
Quick and easy to prescribe (often a patient can wear them home).
Cost effective yet still made to measure.
Durable and can be accommodated in most footwear.
Ideal as a sport orthotic.
Suitable for Low to Moderate support.
Paediatric Orthotics
At BodyRight Emma Frame MISCP our Paediatric Physiotherapist is happy to discuss any concerns a parent may have for their child's foot, posture or gait development.
For some children an orthotic may be prescriped to provide effective stability.
Features:
Deep heel cup with flat bases for stability.
Thin design which is easily accommodated in most footwear.
Soft flexible edges for comfort.
Durable, washable and cost effective.
Colour coded for teaching purposes (Red for Right, Blue for Left).
Footwear
At BodyRigtht Physiotherapy we can provide footwear which are especially designed to deliver ultimate comfort for all wearers and to provide for the unique needs of those with foot health concerns.
Features:
Extra width and depth in the toe box and forefoot area helps to prevent pressure on swollen feet, bunions, hammer toes and other problem areas.
Designs developed to reduce foot health complications associated with diabetes and poorly fitting footwear.
Each shoe comes with gel insoles but the footwear are able to accommodate prescription insoles or orthotics.
We are also delighted to introduce custom BIRKENSTOCK to our range…
Following a biomechanical assessment, a cast of your feet is taken.
This allows your Birkenstock sandal to be made to fit the contours and shape of your feet perfectly.
The deep heel cup, arch support and spacious toe box give your feet the room and support they need.
Enquire at the Drogheda Clinic (041 9843950) or the Phibsboro Clinic (018300100) for more information about any of the orothic products available from BodyRight Chartered Physiotherapy.