Our team of highly skilled Chartered Physiotherapists specialise in a broad range of Physiotherapy treatments and condtions. We currently have two clinics, 27 Fair St, Drogheda and Berkeley St, Phibsborough Dublin 7.
We hold pilates classes in a modern studio at the Fair St clinic, designed for those with back/neck pain and other injuries. Our Pregnancy Pilates classes are a wonderful way to stay fit and healthy, and prepare for labour.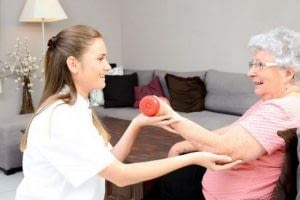 Home Care Visits Also Available
BodyRight Physiotherapists can assess and analyse the effect of injury, inactivity, illness and disability on your functional ability. This may be the result of conditions including respiratory, cardiovascular, orthorpaedic or neurological.
We design a treatment programme specifically for you based on your functional ability and personal aims or goals. Progress will be regularly reviewed and treatment modified to help you achieve the best outcome possible.
We at BodyRight Physiotherapy provide experienced and skilled Chartered Physiotherapists, who are committed to delivering the very best service to our clients.
Sarah Plunkett
MISCP
Sarah graduated from UCD in 2001 as a Chartered Physiotherapist where she performed research into the effects of exercise on Ostoeporosis. She is a member of the Irish Society of Chartered Physiotherapists, and the Australian Physiotherapy and Pilates institute. She worked in the Mater Hospital Dublin for several years before working in private sports clinics in Dublin, and in 2006 she opened BodyRight Chartered Physiotherapy Clinic in Drogheda.
Sarah has studied extensively on post-graduate courses and uses a wide variety of techniques i.e. manual therapy (including joint manipulation), massage, exercise therapy, electrotherapy, kinesio taping, kinetic control, Pilates, Orthotic Prescription, and Dry Needling. She also uses Pilates and postural re-education in order to achieve the best results for her patients
Gareth Duffy
PRACTICE MANAGER
Gareth is the Practice Manager at BodyRight Physiotherapy. His responsibilities include all business activities for BodyRight such as Marketing, Accounting, Purchasing and Client Relations. Gareth is married to Sarah with 3 children and lives in Grangebellew, Co Louth, spliting his time between the Drogheda and Phibsboro clinics.
Gareth has an honors degree in Marketing & Management from DIT and has 10 years experience in SME management within different business sectors. If a client requires any information regarding promotions, pricing of services or account queries, Gareth can be contacted at either the Drogheda or Dublin clinics.
Caroline Gavin
MISCP
Caroline studied science at undergraduate level and graduated with an honours degree in Anatomy from NUI Galway. She completed her Masters Degree in Physiotherapy from Queen Margaret University College in Edinburgh in 2005.
She then worked in Mallow General Hospital in Cork and St. Vincent's University Hospital in Dublin, completing rotations in Musculoskeletal Outpatients, Respiratory and Stroke Rehabilitation.
She began her Modified Pilates training in 2008 and joined Sarah's team in January 2009. She was worked in private practice since then, with a special interest in sports injuries and Modified Pilates.
Robert Brodigan
MISCP
Robert graduated from The Royal College of Surgeons in Ireland as a Chartered Physiotherapist. Since then Robert has completed all of his rotations in Our Lady of Lourdes Hospital in Drogheda. Robert gained a vast amount of experience in the acute setting in areas such as respiratory care, stroke and neurological rehab and post operative management and rehab.
Since joining the BodyRight Team in 2014 Robert developed a keen interest in Modified pilates, completing the APPI modified Pilates instructor course and is now teaching in our Drogheda clinic. Robert has a special interest in sports injury rehab and enjoys working with athletes. Robert uses a wide range of techniques from manual therapy and manipulation to dry needling and exercises prescription when taking a patient through their rehab process.
Shamsa Doyle
MISCP (PEDIATRICS)
Shamsa Doyle is a chartered physiotherapist (MISCP) and mother of three. She graduated from Trinity College in 2002 with a B.Sc (Physio). She is a member of the Irish Society of Chartered Physiotherapists (MISCP) and was also registered with the New Zealand Board of Physiotherapists (NZRP) while working there for a year. Shamsa is passionate about working with children and has ten years of experience working in pediatrics.
She has worked with children of all ages with varying levels of physical issues/ diagnoses in settings ranging from clinics, school and home. Prior to joining the team at Bodyright Physiotherapy she worked in an early intervention assessment and intervention team in Dublin. Shamsa qualified as an International Association of infant massage baby massage instructor (CIMI) in 2011.
She qualified as a birthlight baby yoga instructor in 2013. She is also a sling consultant, qualifying with the trageschule school of babywearing in 2013. Shamsa strives to provide a warm supportive environment where parents can bring their children for physiotherapy intervention.
Michelle Ni Ghrainne
OCCUPATIONAL THERAPIST SPECIALISING IN PAEDIATRICS
Michelle is a Clinical Specialist  Occupational Therapist specialising in Paediatrics.  She has worked in paediatrics since qualifying from the renowned  St Loye's School Of occupational Therapy, University of Exeter, Devon in 2000. Michelle has worked both within the HSE and NHS systems in a wide variety of settings e.g. special schools, mainstream schools, ASD Units, community based teams both Early intervention and School Age and also within the Paediatric Hospital setting.
Michelle is passionate about making Occupational Therapy practical and easily transferrable to the home setting, where she believes the most gains can be made to a child's development. A key component of Michelle's work is parent/carer education and this joint working underpins her whole practice.
Michelle has extensive experience in a range of paediatric conditions within the 0-18 year old caseload ie Autism, Dyspraxia, Intellectual and Physical Disability, ADHD/ADD, Developmental Delay etc.
While Michelle enjoys the wide variety and mixture of her work, one area of particular interest is Dyspraxia. She has completed extensive training and research in the area. She believes when this difficulty is highlighted early in a child's life and targeted OT intervention completed, a significant and lifelong improvement can be made to a child's day to day  functioning.
Michelle has continued to update her training regularly throughout her career and has undertaken courses both within Ireland and the UK relevant to her paediatric practice. She  is a member of both the Irish and British Association of Occupational Therapists, and has held committee roles within the Paediatric Subgroups of both.
To book an appointment with Michelle or discuss a query you may have about your child please contact her directly on 087-9738870 or michellenighrainneot@gmail.com.
Cillian O Shaughnessy
MISCP